Luke and Trisha from Intoxicated on Life have come up with an amazing handwriting curriculum that uses scripture to simultaneously work on your child's handwriting skills and hides God's Word in their hearts (see other ways I teach my girls to memorize scripture here). They will also learn new vocabulary and practice dictation.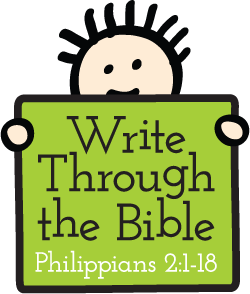 In the Build Your Bundle Homeschool Edition Sale, you can get Luke and Trisha's full-year handwriting workbook using Philippians 2:1-18 from the English Standard Version (ESV). The handwriting workbook uses the D'Nealian Manuscript font.
Here is how the program works:
3 days are spent copying the new verse.
1-2 days are spent on vocabulary.
1 day is spent on dictation.
Several days are spent reviewing prior verses.
The process repeats until the child has completed the entire workbook.
If you want to learn more, check out this video explaining the system.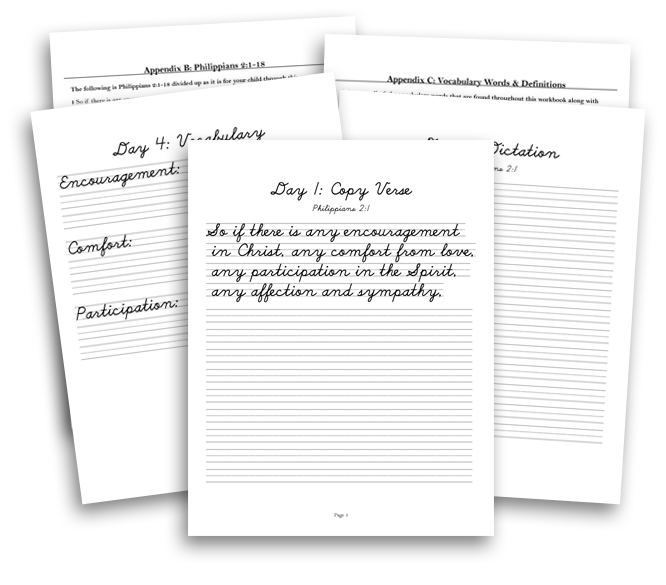 If you would like to give their Write Through the Bible handwriting curriculum a try before you buy it, be sure to check out their FREE mini-workbook of the Lord's Prayer.
I am excited to try the Write Through the Bible handwriting workbook with Earth Angel this year as soon as she finishes her current handwriting book. You can get the Write Through the Bible: Philippians 2:1-18 Handwriting Workbook here for $6.99. It comes in manuscript or cursive and in either KJV or ESV.
Or…
This week only, you can also get the workbook in the Kindergarten – Third Grade Homeschool Curriculum Bundle. Just click the graphic below.
$187.13 ONLY $39.00 Save: 79%

Teach your K-3 children basic skills and core truths through easily understandable lessons and hands-on activities. Our K-3 Bundle includes reading, math, science, handwriting, character training and Bible resources. Your children will experience life in 17th century America as they learn about the settlers and our 13 original colonies. You will have everything you need to savor these first days of discovery!
Buy more & save more! Purchase 2 pre-assembled bundles and get the 3rd one 50% off! See site for details.
Note: This post contains affilliate links. Thank you for supporting Sisters Raising Sisters.