I am very excited to announce that Sisters Raising Sisters is now a part of the Schoolhouse Review Crew for 2014! What is the Schoolhouse Review Crew, you ask? It is a group of hand-selected bloggers who test various homeschool curriculum and resources and then review them for YOU. Pretty great, right? We know lots of you have been asking for more homeschool content here at Sisters Raising Sisters. In 2014, you'll get it.
If you haven't yet read our review of The Old Schoolhouse Magazine (our first as part of the Crew), go here to check it out.
Today I want to tell you about an amazing online resource that I'm reviewing. The site is called SchoolhouseTeachers.com, and it has a nearly overwhelming amount of online classes (over 50 courses) for every level of learner from pre-K through high school. You have access to more than 30 teachers available for questions and advice, membership into an online record-keeping system, and resources for not just core subjects,but electives, as well, like music, archeology, art and foreign languages. Using the Yearly Membership Option you can get a whole year of access to the site for $139. Keep reading for an even better deal they are offering the month of December.
Courses We Tried from SchoolhouseTeachers.com
There is so much to explore and choose from on SchoolhouseTeachers.com. For this month, we decided to give two different curricula a try. I try as often as I can to choose things in which both my girls can participate (Earth Angel is 3 and a half and Baby Love is almost 2).
While I was looking through the pre-K choices, I found a curriculum called Schoolhouse Preschool that seemed like it would fit the bill perfectly. In it was something that caught my eye called "Frontier Friends: Character Tales." These are short stories and worksheets about faith on the Pennsylvania frontier. This month we read and discussed Hesitant Hezekiah, a story about a little gray fox. I love stories for learning because the keep the girls' attention. We learned the definition of hesitant, what a baby fox was called and the importance of being brave (we even tied it back to their favorite story of David and Goliath).
After reading and discussing the story, there was a coloring page that I printed for each of the girls, and we continued to discuss what they remembered from the story (comprehension). The course also included a game that was was more suited for my 3 and a half year old.
The other curriculum I really enjoyed with my girls was called "Homegrown Preschool." This month all their learning activities centered around Christmas. We chose to do one called "My Very Own Tree." It was an activity centering around a montessory style invitation to play while decorating a Christmas tree. I used their suggestions and adapted it to the resources I had on hand.
Most years we have a live Christmas tree, but this year because we are doing so much traveling, we only have one full week home in December to enjoy our decoration, so a real-tree didn't seem worth it. My husband bought me an all-white artificial tree (a goofy dream of mine for years), and we put that up instead.
First the girls helped me spread out each of the branches (a somewhat tedious process which worked on their self-control, focus and patience). Once the tree was assembled and the lights were on, I emptied my bag of plastic ornaments (mostly snowflakes and icicles leftover from our "winter wonderland" wedding) on the coffee table and showed each of them how to hang one ornament and then stood back and left them alone. This activity was so good for their fine motor skills as they would at first struggle to make the ornaments hang where they wanted. By the end of the pile, they were hanging professionals! I think without the encouragement of this course I might not have let my girls have so much freedom and independence (one thing I'm really trying to work on with them) with this task, but the results were so worth it.
Overall, I am very impressed by SchoolhouseTeachers.com. There is certainly way more resources and information there than I expected. I did find it difficult when looking forPre-K courses that I had to click through each topic in the Pre-K/Elementary section to find out if, in fact, the course was designed for my level of learners. A further breakdown of grade level would have made my search easier.
How to Join SchoolhouseTeachers.com
There are several ways to sign up for SchoolhouseTeachers.com but right now. They are having a Buy One Get One Special, during the month of December, with their Yearly Membership Option (which is $139). With this option, on top of your membership you will also receive a copy of the 2014 Print Issue when it is released (US only), Schoolhouse Library and a free 1-year membership to SchoolhouseTeachers.com to give to a friend. Now that's a deal Penny Lane can get behind!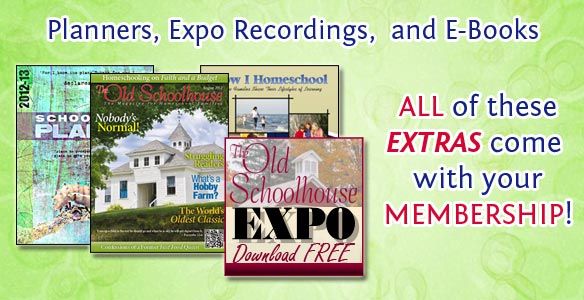 I really hope you'll take some time and check out SchoolhouseTeachers.com soon. I know we'll continue to use their resources throughout the upcoming school year. In fact, I've got my eye on some foreign language courses I'm dying to try. I'll keep you updated!



Be sure to sign up for our email list so you don't miss a single post!